Source: HeatingAndVentilating.net - http://www.heatingandventilating.net/
Briggs and Forrester Engineering Services has won a contract to install the mechanical, electrical and public health services for the Canary Wharf Crossrail Station.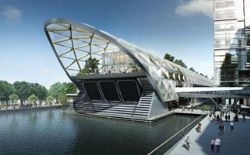 The works include electrical systems, cooling, lighting, drainage, power and pump systems.

Canary Wharf Contractors, part of Canary Wharf Group, awarded the contract and is designing and building the station box on behalf of Crossrail for a fixed price of £500m, with Canary Wharf Group contributing £150m.

The Canary Wharf station will be one of the largest across the new Crossrail network and is being constructed within the waters of North Dock. The station box is approximately the same size as One Canada Square laid on its side.

Canary Wharf Group is developing four levels of retail space above the station box and a spectacular roof-top park, which will be partially covered by an elegant, semi open-air timber lattice roof.

In March this year the contractors completed and handed over the lowest level of the station box to Crossrail, five months ahead of schedule and within budget, ready to receive the tunnel boring machines in 2013. After the tunnel boring machines have passed through, the contractors will fit out the station with work due to complete in 2015. Work continues to construct the levels sitting directly above the station box.