Source: HeatingAndVentilating.net - http://www.heatingandventilating.net/
Spirotech develops and manufactures innovative overall solutions for conditioning fluids in HVAC and process installations.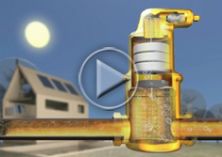 Our products and services result in fewer malfunctions, less wear and tear, faster commissioning, easier maintenance, higher yields and lower energy consumption. Because of our focus on quality, product development and process improvement, Spirotech products are recommended by leading manufacturers of boilers and other installation components which many users worldwide benefit from.

All of the Spirotech products have the same purpose: improving installation and process efficiency. Additional advantages include reduced maintenance, malfunctions and failure. This is why we offer a wide range of products and services such as automatic air vents, deaerators, vacuum degassers, dirt separators and hydraulic separators.

Additionally, we offer a specialist range of analyses, recommendations and solutions for quality assurance and process improvement. These are all quality products and activities that combine many benefits, allowing your installation to function without problems.