Source: HeatingAndVentilating.net - http://www.heatingandventilating.net/
The Dimplex range of SCx unvented water cylinders has been expanded with a range of commercial size cylinders. With sizes available from 450 litres up to 4000 litres the stainless steel cylinders are an ideal solution for both multi-occupancy dwellings and commercial properties such as sports clubs.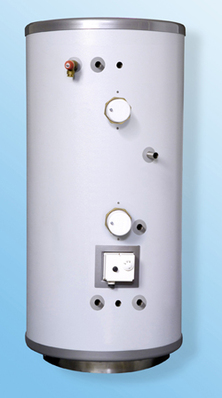 Each cylinder is bespoke designed to individual specification, with the customer able to choose the type and number of fittings. A choice of coils is also available, allowing the cylinder to be integrated with solar thermal water heating, heat pumps and other renewable solutions, as well as gas. The number, phase and kW rating of the immersions can also be individually specified, making the commercial SCx range a highly flexible and practical choice.

The SCX range features a duplex stainless steel inner cylinder and with all connections to the cylinder in 22mm stainless pipe, installation is easy. Plumbing is also simple as the cylinder's internal expansion chamber eliminates the need to plumb or locate an external expansion vessel.

Because water is drawn directly from the mains, there's also no requirement for a cold water storage tank, so the cylinders can be fitted in lofts, basements or any convenient 'out-of-the way' location from where they will supply hot water for fast filling baths and powerful showers.

To ensure the cylinder looks as good after installation as it does when it leaves the box, it is finished in tough dove-grey plastic coated steel, minimising evidence of possible knocks encountered during installation. Optional immersion covers are also available.

With the 25 year cylinder warranty, 2 year immersion warranty and 5 year warranty on components, the SCx range offers quick, easy installation and peace of mind.

With the inclusion of the new commercial sized products, Dimplex now has direct and indirect models from 80 litres up to 4000 litres, making the cylinders suitable to supply high power, hot water solutions for all types of domestic properties from bed-sits to six-bedroom multi-bathroom homes, as well as a range of light commercial properties and more specialist installations such as leisure centres.