Source: HeatingAndVentilating.net - http://www.heatingandventilating.net/

It will not have escaped people's attention that efficiency is high on most agendas these days. Standards, EC Directives and UK regulations have all been pushing the efficiency message in recent times. Fans were quickly singled out for attention, says Mike Duggan

The energy usage by fans has been calculated to be nearly 20 per cent of the total usage of electricity in Europe, second only to pumps. This figure is similar in the USA and other developed countries.

In Europe, the Directive on the Ecodesign of Energy Related Products (ErP) conducted several preparatory studies to examine different product types. The study for fans became known as "Lot 11" and for the three years it looked in detail at the whole fan market.

This study, and the raised awareness of energy efficiency was the driver for the UK fan manufacturers trade association to propose the development of a new ISO standard on energy classification for fans. And it wasn't just Europe. There was immediate support for the proposed new standard from the US where energy is likewise heading industry agendas. Australia and China are also conducting research and studies into improving and classifying efficiency.

It was the belief of the fan industry that there was a widespread need for minimum efficiency standards to be recognised. To encourage their implementation, a classification system was proposed which incorporates a number of efficiency bands. It is anticipated that with the passing of time, the lower bands could be withdrawn. With improvements in technology, higher efficiency bands may need to be added.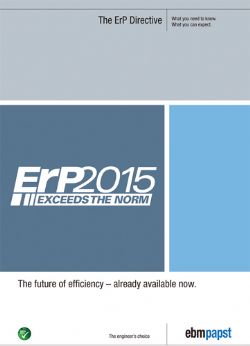 There were of course national differences or priorities but these have been accommodated in the ISO standard ISO 12759 which was published in December 2010. For instance, in Europe the requirement is mostly for motor and fan impeller combinations, whereas in the US the majority of fans are sold as bare shaft fans with the motor or drive mechanism being supplied separately. The ISO standard sets Fan Efficiency Grades for both bare shaft fans (FEG) and Fan-motor Efficiency Grades (FMEG) for driven fans.

Shortly after that, on 30 March, 2011, the European Commission published its regulation number 327/2011 on the ecodesign requirements for fans driven by motors with an electric input power between 125W and 500kW.

The target energy efficiencies that particular fans have to achieve is being introduced in a phased timetable. The "first tier" date is 1 January, 2013 and UK fan manufacturers are working towards that introduction. To that effect the FMA has already held briefings with its members on compliance and will be holding another training session on 14 May. The "second tier" date when the target energy efficiencies will be further increased is 1 January, 2015.

So what practical difference will the new regulations make? The classification system of efficiency bands will lead to greater transparency of a fan's energy efficiency. Future energy labelling requirements coming from legislation will further aid that transparency. And with future improvements in technology and manufacturing processes the minimum efficiency grades may be reviewed and increased in time.

Nobody believes that energy efficiency targets will remain constant. Both the users, who have to pay for the energy to run the fans, and the legislators who want to push the boundaries, will be looking for incremental increases in efficiency levels. The ISO fan efficiency standard and the resulting EC regulation have been developed in such a way that it can accommodate those changes.

// The author is technical manager of the Federation of Environmental Trade Associations, a part of which is the Fan Manufacturers' Association //